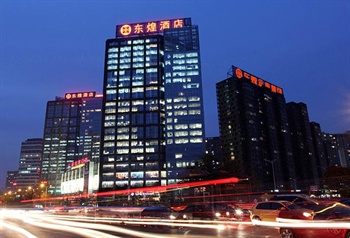 Dong Huang Hotel located at Wang Jing, Beijing China, is a Five (5) Stars branded Hotel strategically located at the WangJing CBD (Central Business District). It is "Home" to the many Multi-Nationals Company (MNCs), especially, to the WangJing Science & Technology Digital Park in Beijing. Easily accessible and travel within 15mins from/to the airport and 20mins to/from downtown Beijing. From hotel to Subway WangJing South station is only 10 meters.
The tall modern glass architect design Hotel sits on a mixed development with an adjacent 28 storey twin Office Tower and a 5 stories Shopping complex operated by the renowned New World Department Store.
The Hotel with 293 rooms offers the Corporate Traveler various room types of option from Superior to Premier to Suites. All rooms are tastefully design with LCD wall-mounted TV that allows more space in the room. Comfort-ability is of "Dong Huang Hotel primary" objective and with our Signature Dong Huang Hotel "Serta Sleeper Bed" is indeed a dream away from home.
Dining at the Odyssey International Restaurant is an experience not to be missed. The many ceiling sea-shells theme presents an intimate and cozy ambience that you can indulge in delectable and sumptuous culinary promotions throughout your meal.
Enjoy our cozy rooms with all essentials you need while our accommodating and friendly services guarantee you a satisfying experience.
Dong Huang Hotel "The Name You Can Trust" for a memorable experience of full service with superior facilities at exceptional value.
Dong Huang Hotel, a good place to be.